70 years of a Queen. This weekend will see street parties, family Celebrations, BBQs & lots of bunting & flags.
I was chatting to my mother in law about how strange it will actually be when that comes where we'll have a king instead of a Queen on the throne.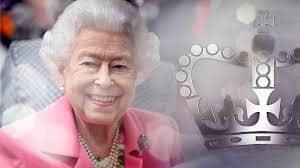 All of us have grown up only knowing Queen Elizabeth ll to be on the throne, so when that changes it will feel strange…if you think about a lot will change, everything that has the Queens head on it will need to be replaced (coins, notes, stamps etc). It will take a while no doubt but you think everything we've ever known as the Queen on it will one day no longer exist.
So why are we celebrating this particular Jubilee so much?
Well it's the first time a British reigning Monarch has achieved the Platinum Jubilee. She's been the ruling Queen for 70 whole years. That's quite an achievement isn't it?!?
Are you celebrating this weekend? Have you gone all out like our fabulous CEO Kat & leader Nicola did last night? ? Or are you celebrating in a more low key kind of way?
I'll be at a family BBQ (weather permitting) on Sunday, the decorations are up & there will be special puddings too.
Bohemian Belle is also celebrating in our own way by offering you all 10% off the whole weekend when you spend £70+ until 11.59pm Sunday, there's also a 2nd offer if you spend £50 in our Ready to Post Section you'll receive a Free Gift too…we promise it won't be a scone or strawberries ???
Whatever you have planned this weekend we really hope you enjoy yourselves – why not share your pictures with us, tag us on Facebook Bohemian Belle LTD or on Instagram
Happy Jubilee one & all
Love BB HQ xoxo